JUIN 2023
Posté le 09/06/2023
alessandra-adelaide.eu
8 nouveaux projets sont prêts pour Juin 2023 . CLASSIC #1 POP flowers on classic monochrome sampler...
2023-06-09T00:00:00+02:00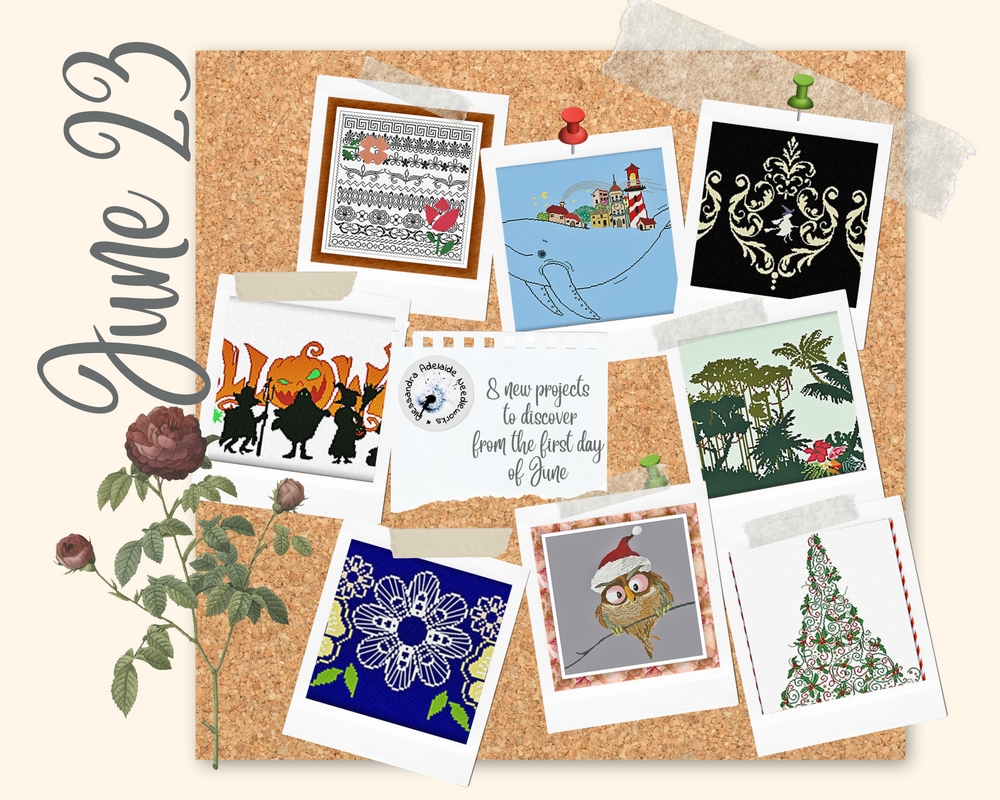 8 nouveaux projets sont prêts pour Juin 2023 .
CLASSIC #1
POP flowers on classic monochrome sampler with borders of different styles .
 JUNGLE
The series of forest profiles continues with Jungle.
The dark greens at the base of the tropical forest are broken by the magnificent colors of tropical flowers
ALL IN HALLOWEEN
How better to announce Halloween than with a large orange writing and the parade of dark protagonists with fluorescent green eyes?
NOBLES FAMILIES OF HALLOWEEN KINGDOM 1
In the kingdom of Halloween all noble families have their own emblem.
Let's start with families: BAT, WITCH and POISONOUS MUSHROOMS
CON GIOIA
The floral motifs typical of spring are many.
In this simple ornament white and yellow flowers stand out against the dark background of the fabric
SEASIDE VILLAGE
The magical village grown on the back of a whale has one of the best " sea views " imaginable :-)
CHRISTMAS OWL
The older brother of this owl was the protagonist of " Are you sure ?"
.....  and the low inclination to sociality in the family gaze is clearly visible also in this " Christmas portrait "
CT 64
The series of Christmas trees in AAN is endless.
Here is version 64: tufts of butcher's broom, red ribbons and green curls are the protagonists
...... et les activités sur Patreon se poursuivent.
In Patreon AAN THE CLUB we are stitching the SAL " Tower of farm animals " .
Chick, hen, rooster, swallows, duck, goose, mouse, sheep and goat are the animal present at now and the 2nd special mandala ( JOY FLOWERS ) started in May
In Patreon AAN MINICLUB we have the CURLY ALPHABET . The letters just published are : Q, C, R, A, F, S